Minimum Age:
16 years by program start
Qualification Standards:

High school junior or senior at time of application
Interest in STEM career
U.S. citizen
GPA of 3.5 or greater, transportation to/from worksite

Tenure:
12 June - 11 August 2023
Application Period:
1 November 2022 - 10 January 2023 at 5:00pm
The Wright Scholar Research Assistant program is an Air Force Research Laboratory initiative designed to expose high school juniors and seniors to various disciplines of engineering and science in an effort to further their interest in future STEM career options. Wright Scholars are competitively selected to work as fulltime, paid interns for 9 weeks during the summer. A panel of scientists, engineers, and educators use a "blind" review system to score and rank student applications and essays (names and personal data are removed from applications prior to review to prevent biases). Selected students are then matched with a mentor to work on a research project for the duration of their internship. At the end of the program, Wright Scholars are required to give a formal presentation of their project work to their peers and mentors, and a program certificate is awarded.
Wright Scholars also participate in weekly university classes, workshops, lectures, and tours to expand their knowledge of potential STEM career fields. The Air Force Institute of Technology provides a jet propulsion course specifically for Wright Scholars. Students also travel weekly to the University of Dayton to participate in a variety of classes and workshops through their Summer Science and Engineering Enrichment program. Wright State University's College of Engineering & Computer Science offers informative engineering sessions, while the College of Science and Mathematics offers a talk on Pre-Health programs and a tour of the medical school. The Ohio State University provides students the opportunity to participate in an exciting electrical engineering workshop and lab tour. Other tours, such as the C-17, AF Museum, various AFRL locations, and industry tours are also popular. Additionally, students attend a weekly luncheon lecture series featuring prominent scientists and engineers who share their expertise.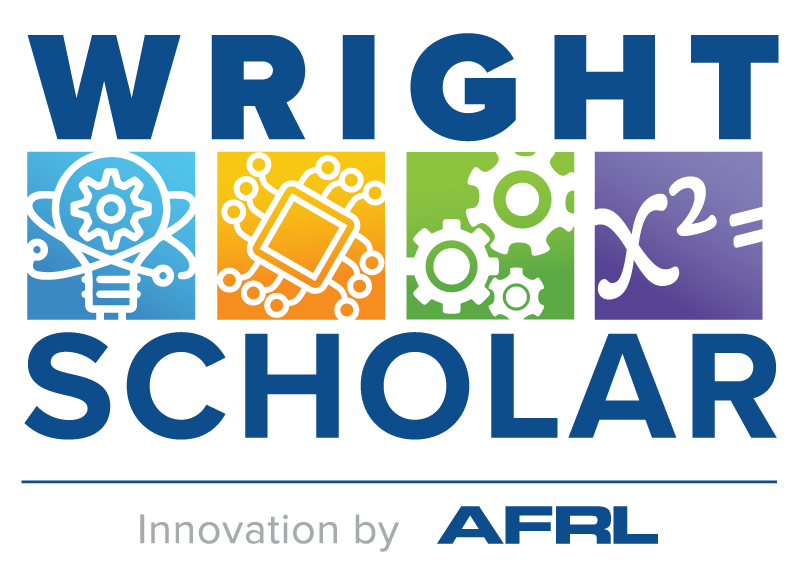 Applicants are solicited from local high schools, but the program is open to any students outside the area or out-of-state who meet the criteria. No travel allowances are available, and the student is solely responsible for obtaining housing, meals, and transportation to/from work.
According to former Wright Scholar feedback, students positively reflected on their experiences as follows:
The lecture series speakers were very beneficial, and I learned about many different aspects of science and engineering fields.
This was the most fulfilling internship I have ever had as I felt I was doing meaningful work.
Amazing opportunity to do true research and contribute to scientific knowledge.
The program offers excellent insight into research and STEM fields in general.
This program allows exploration of several potential career paths while showing what it is like to be a part of an engineering/STEM workforce.
I really enjoyed getting hands-on experience by working on a project which I found very interesting.
I loved working with researchers and small teams; the skillset provided was incredible, and I learned so much.
I most enjoyed being able to work with my mentor and his lab group on meaningful research.
Liked being able to apply scientific knowledge and concepts outside the classroom.
I loved being able to collaborate with scientists and engineers on projects I am passionate about. Such experiences allowed me to foster lasting relationships and enhance my understanding of STEM topics. I gained exposure to cutting-edge technology and learned a lot about my future career field.
Since program onset in 2002, approximately 708 Wright Scholars have been hired from 109 school districts. Many have graduated from college or are attending a university majoring in engineering, science, and medical career fields. Upon college graduation, several have been hired as AFRL researchers and some are Air Force officers with engineering degrees, while others have received SMART scholarships, including paid college tuition with government service payback.
Of students tracked through the years, 86% pursued or are pursuing science or engineering careers and 10% pursued or are pursuing medical careers, while 4% pursued other fields like finance or business.
Requirements
Must have a demonstrated interest in STEM career fields.
Must be a high school junior or senior at time of application.
Must be a U.S. citizen. Program is not open to Permanent Residents or Green Card holders.
Must be 16 years old or older and have a valid driver's license by program start.
Must have own transportation OR a reliable means to get to/from the work place each day with someone who already has base access. Passes for base access will ONLY be issued to the student intern.
Must have overall GPA of 3.5 or higher. Home-school students are highly considered if they score in the top 20% on a national standardized test such as the PSAT/NMSQT, SAT or ACT.
If you live out-of-state or a long distance from WPAFB, you must be responsible for securing your own temporary housing AND transportation. Program administration will not be responsible for making suitable arrangements on a scholar's behalf. If you do not have a host family or friends with whom to stay, be aware that nearby dorms/apartments are now requiring guests to be a minimum of 18 years of age. Must obtain/retain personal housing, meal, and transportation needs.
Must be able to pass background check.
Must be available to start program on 12 June 2023 and attend mandatory first-day orientation.
Must commit to mandatory attendance policy during first week and also during student presentations at end of program. No absences (except emergency or illness) will be allowed during first week.
Must be able to participate 40 hrs./wk. for 9 weeks -- this is a full-time commitment.
May not request more than 5 days of excused absence during the program (illness is excluded). Excessive or unexcused absences will be grounds for dismissal.
Those students who cannot meet the minimum work requirement or adhere to the attendance policy are ineligible for the program.
Prior Year Wright Scholars Entering their Senior Year of High School
You are eligible to return automatically if your mentor has available intern work next summer, internship funding, and recommends you for continuation Wright Scholars interested in returning are NOT required to re-apply.
You do NOT need to reapply to the program; just get your mentor to approve your selection to continue by submitting your name to afrl.rq.dxx.wrightscholars@us.af.mil. Scholars may be eligible to return for consecutive summer internships through graduation from college. Discuss your interest to return as a Wright Scholar with your mentor.
Mentor recommendation is required for consideration the following summer.
Wright Scholars selected to return will receive an emailed invitation for the following summer by December 31, with an acceptance window that closes in February.
You will receive a confirmation at the e-mail used for your SmarterSelect account once you submit your application.
If you have any program questions, submit them by email: afrl.rq.dxx.wrightscholars@us.af.mil.