Microscopes
Shinco Microscopes (set of 6)
Shinco Microscope is designed for rugged student use. It has easy threads focus, efficient prism illumination, and a locked-on eyepiece. This kit comes with 5x and 10x eyepieces, 6x, 10x, and 40x objectives, field case, and vinyl cover. Simple, easy to use microscope that is great for primary students.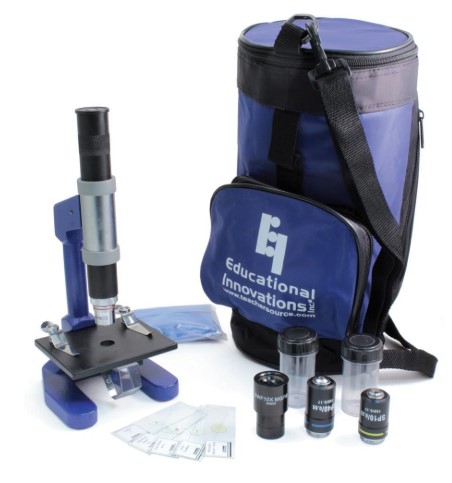 Digital Microscope Kits: Celestron 44320 (set of 4)
Digital Camera with imaging software CD-ROM. Biological microscope with powers from 40x to 600x and zoom eyepiece from 10x to 20x; 4x, 15x, 30x objective lenses. Top and bottom electric illumination. Includes 3 prepared glass slides, 2 blank glass slides, 1 blank well slide, light diffuser, needle probe, eye dropper, and tweezers, as well as sample specimens to get you observing immediately: rocks, onion bulb, feather, honeybee wing, and more. Plug and play - no drivers to install. (Additional slides available).

AmScope B100B-MSs 4x-2000x Binocular Microscope with Mechanical Stage
(set of 8)
This is a binocular compound microscope that offers eight magnification settings: 40x, 80x, 100x, 200x, 400x, 800x, 1000x, 2000x. It comes with a binocular sliding head, two pairs of widefield eyepieces, four Achromatic objectives, coarse and fine focusing, mechanical stage, and electrical illumination system. It is an ideal instrument for clinical examination, teaching demonstration, and biological, bacteriological and pharmaceutical research.